My Performance Art

2015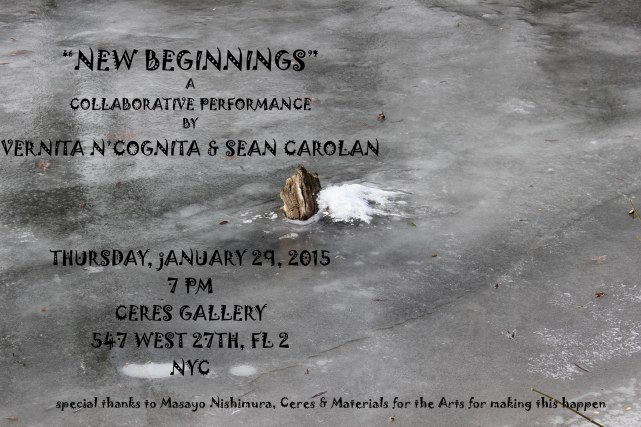 Trying to write a bit of pr but - so hard. I need a pr rep! But trying...
Vernita Nemec AKA N'Cognita began performing in conjunction with her visual practice in the late 70's.
Nemec has performed at galleries, universities & museums in the United States, Hungary, Japan, Ireland, Germany, Mexico and France,
including guerrilla performances at the Pompidou Museum in Paris and Documenta 13 in Kassel, GR.
She has studied Butoh and performance theory with many noted Japanese & American performers including Eiko of Eiko & Komo,
Deborah Hay & Akira Kasai, and most recently Body Resonance at Schloss Broellin in Germany with Yumiko Yoshioka.
Sean Carolan, a composer and musician, and she have collaborated since 2007, utilizing experimental and improvisational motifs in their works.
Carolan and his band performed recently at Arlene's Grocery in the East Village.
Nemec has received numerous awards for her work, including a Franklin Furnace Fund for Performance Art Grant and inclusion in
Movement Research's Monday Night5 Series at Judson Memorial Church.
She is included in "The Power of Feminist Art", 1994, Harry Abrams (Pub), edited by Norma Broude & Mary Garrard,
"The Pink Glass Swan: Selected Feminist Essays on Art", 1995, Lucy Lippard. and "Performance Artists of the 80's" by Linda Montano.
Her performances can be seen on UTube and Vimeo. She currently lives and works in New York City.
2014
Rehearsing for my 2nd performance in progress at Movement Research at Judson Memorial Church with Seaqn Carolan. Wanted to include Amanda Flowers and Tania Sen who were in The Black Dress with me, but there just wasn't time.
I think I needed to have it be a solo anyhow. I confess that "A Moment" was akin physically, butr without soken word and the incredibly challenging space that Judson presents.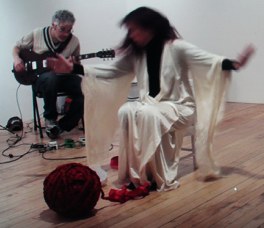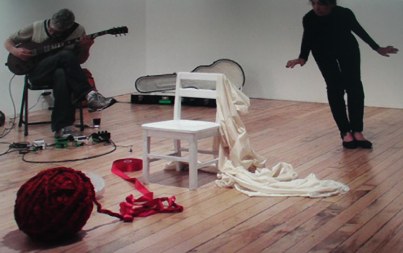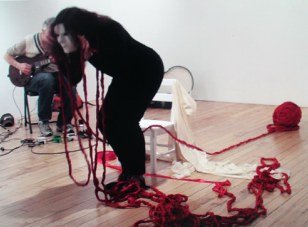 Some images from my performance in October 2013 at Soho20 Gallery at the invitation of Darla Bjork & using her beautiful abstract paintings as background.
If you will notice, you will a small round patio table & 2 chairs on either side in front of two her paintings as if they are windows to another reality.
I confess I bought them all fo r$5 on27th St one day as I was walking past a scrap metal place. He even carried them on his little contraption for moving steel trash- ah, trash, how I love it!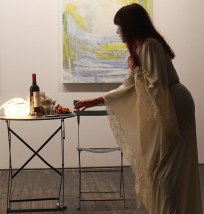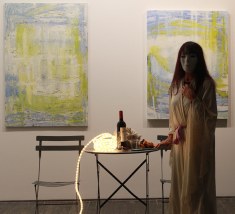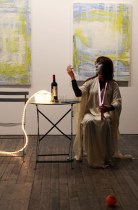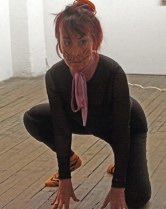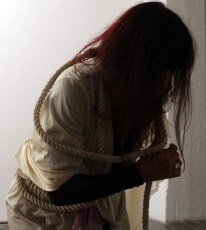 A recent review at: http://chelseagallerista.blogspot.com/2011/02/butoh-moment-ceres-gallery-ulf-puder.html
Thank you thank you!!!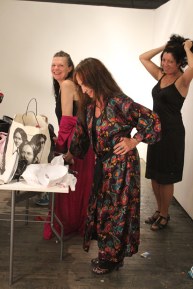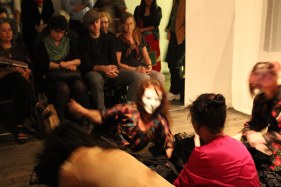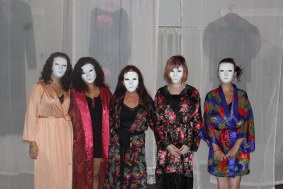 "The Black Dress was presented in NYC at Soho20 Gallery in September 2012 as part of their Savoir Faire Performance Series. It is the first time I engaged "a company" of performers: Tania Sen, Veronica Pena, Amanda Flowers & DeeDee Maguire. Just a month before, in Germany I did a performance, "The Trail of Sighs & Whispers" at the Sommerakadamie in Homberg am Main. That performance was possible thanks to the support of many friends & strangers who contributed through Kickstarter. I hope to go there again this August to both teach & perform.