Sabay Curatorial Space

SABAY CURATORIAL SPACE has a changing exhibition of contemporary art every 2 months or so showing art that isn't seen enough outside the conventional gallery setting. Whether you are an artist or art lover, we hope that you will enjoy
having your meal in this creative setting & perhaps, even consider purchasing an artwork for your home.
Artists, is your art seen enough?? If not, send me your jpegs!
If you are an artist interested in showing there, email 6 jpegs (no larger than 500 dpi in either direction), your bio & a brief artist statement to: ncognita@earthfire.org. You might check out the space (& the food!) before so that you can select art that will be appropriate size-wise. I suggest no art larger than 40" square or smaller then 8x10". And of course, ready to hang.
Sabay Thai Restaurant & Curatorial Space is located at 75-19 Broadway near 75th St in Elmhurst, Queens
Directions: By subway, take the R, E, F, Q or W to
Roosevelt Av/Jackson Hgts.
or the # 7 to 74th st/Broadway.
For other modes of transport, please check their website.
Riochard Brachman: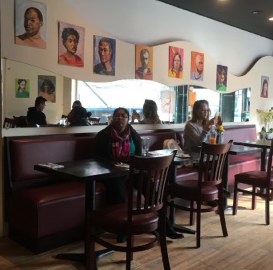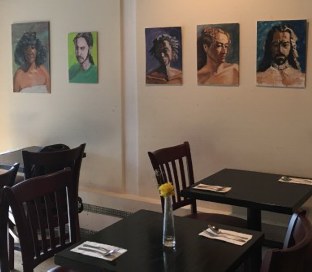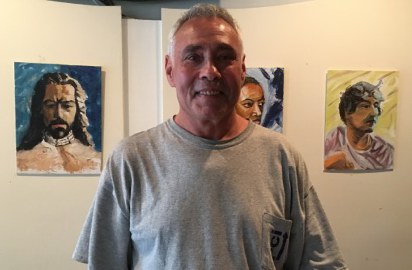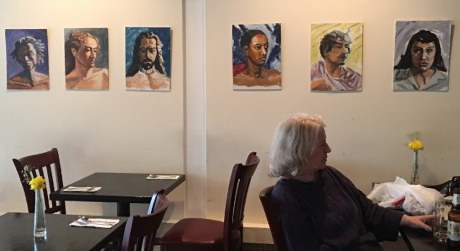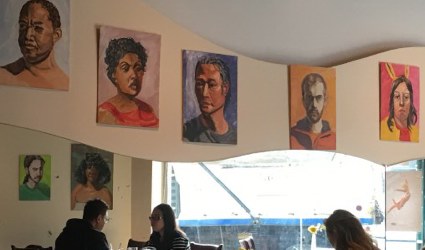 Jacki Lima:
Jacki's now in India and it was after her show that they redecorated, painting the chartruse wall to creme... actually she's the blond sitting above under Richard's paintings.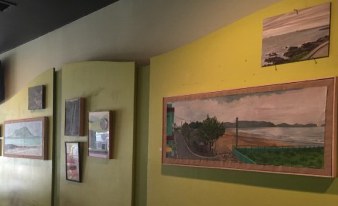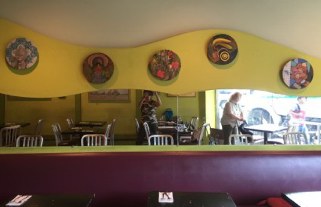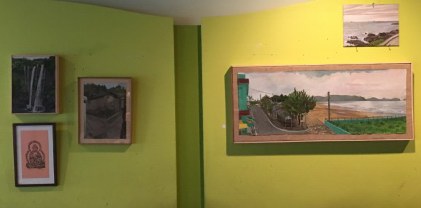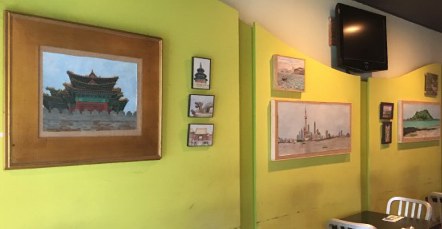 Srividya Kannan Ramachandran:
Apologies that these images are not better of Srivi's beautiful and meditative photographs on aluminum.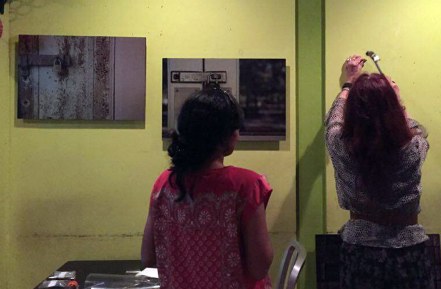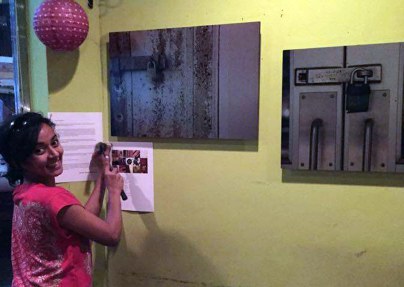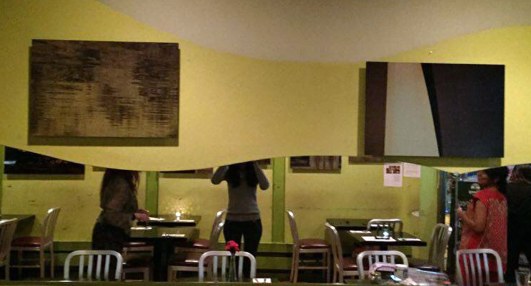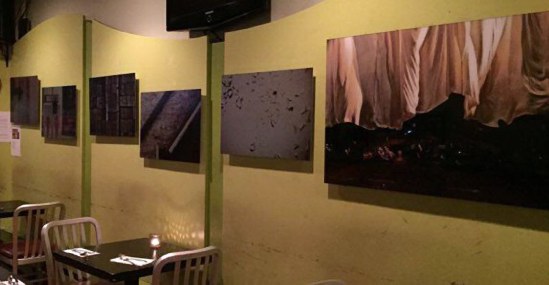 JANUARY 2015
The subtle city scapes of Karen Roth have been replaced with the dazzling abstract paintings and prints of Viridian Artist Diane Root, also known as Matakia. The show will be up through mid to late March.
She hasnt yet decided when her recption will be. The paintings on canvas are $1500 and the smaller prints are just $500.
See you there and be sure to take a window seat in the sun where you can see both the small works above the mirror and the paintings reflected.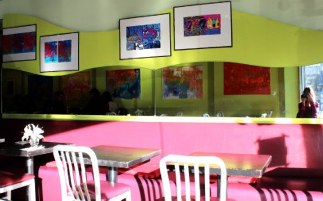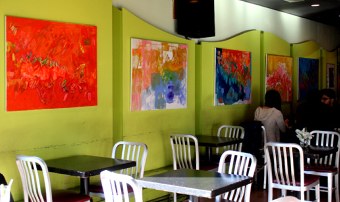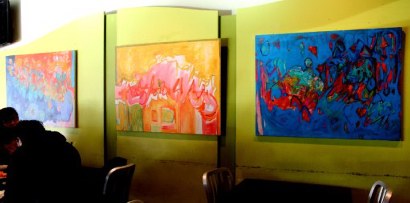 SEPTEMBER 2014
TIME FLYING BY AS USUAL. Painter Karen Roth now at Sabay. I still remember an early pink ish Rothko(!)-esque abstract with cloth tied (or rope) around it.
But her more recent paintings are more realistic & equally nicely done. The show will be up through mid November.
Come, eat, look. Maybe even buy one for they are well - priced and wonderful. Window views... perhaps.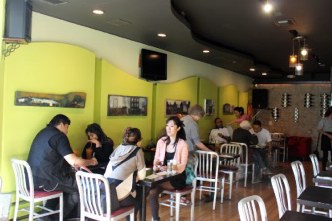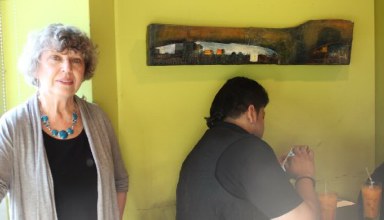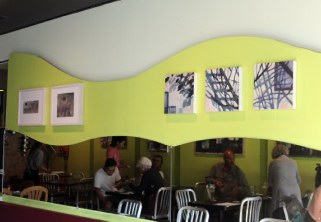 SUMMER 2014
Viridian Artists at Sabay- one of everyone's but Alan Gaynor- totally slipped our minds for his was the show just before and when we removed his photos, we forgot to put one aside to stay for the summer.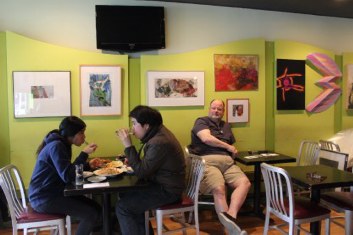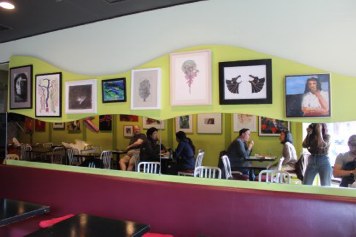 spring 2014
Alan Gaynor photography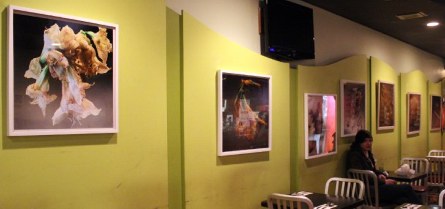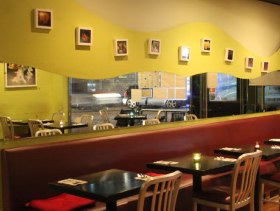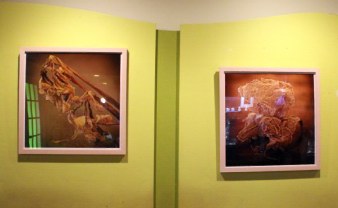 APRIL 2013
Barbara Listenik's paintings are now up at Sabay. she will probably have her reception later, closer to the end of her exhibit. But stop by & take a look. Great lunch & Happy Hour specials... see you there soon...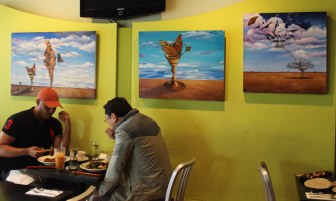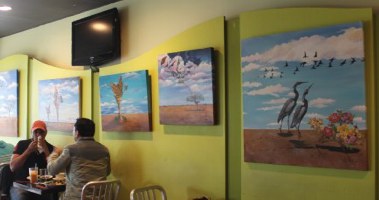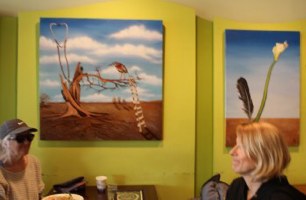 MARCH 2013
SABAY CURATORIAL SPACE & CAFE AT 75TH & BROADWAY IN JACKSON HGTS IS NOW SHOWING THE WORK OF URSULA CLARK THROUGH MARCH. URSULA DOESNT LIMIT HERSELF TO PAINT & CANVAS BUT USES A WIDE VARIETY OF MATERIALS, MANY ORGANIC AND MANY THINGS YOU MIGHT OTHERWISE DISCARD IF YOU WEREN'T AS CONCERNED WITH THE ENVIRONMENT & RE-USE AS SHE IS. BELOW IS HER INSTALLATION - COME TO THE RECEPTION WEDNESDAY, FEBRUARY 27, 6-8PM OR COME ANYTIME! HAVE LUNCH, HAPPY HOUR &/OR DINNER AND TAKE A CLOSER LOOK...

Past artists invited to show at SABAY include: Susan Newmark, Julia Healy, Lauren Purje, David Rodgers, Annelies Bischoff, Ella Veres, Marc Cavallo, Jane Talcott & John Lloyd, Jan McClish,
George Ludway & .... I will continue to add images of these works...
FALL 2012
Robert Smith, a photographer and Viridian Artist, has been photographing his vision of the world upclose and personal. He sees shapes in other ways and almost other dimensions and through his photography (& clues via his titles!)- he is shares his vision with humor & creativity.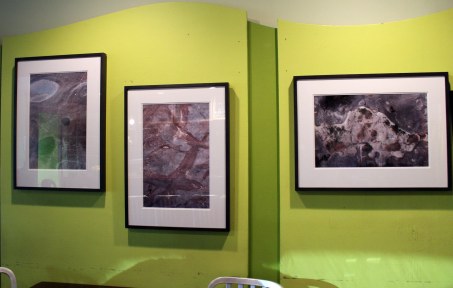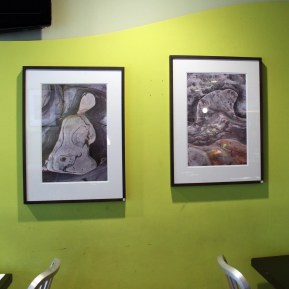 OCTOBER 2012
This fall finds the wonderful paintings of Mexico by Kellyn Alder at Sabay. She also included the art of children she works with in Mexico. Alder was once a Viridian Artist and continues to show internationally.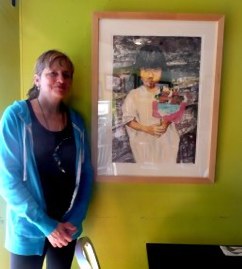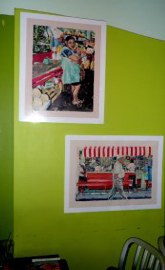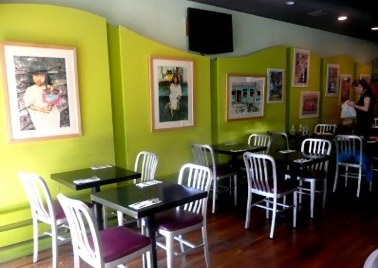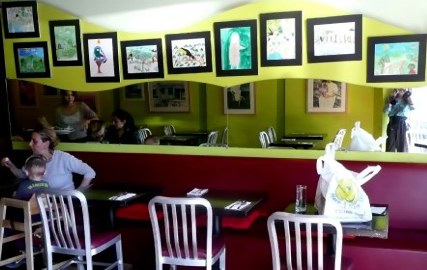 >l<
Fall 2011
A new exhibition at Sabay Curatorial Space consists of photographs by the artist David Rodgers. Small 8x10" black & white photos, they are his version of anonymous photographs found in an attic. The reception was also a "good-bye for the moment" party for his lady friend Katrina, a German photographer returning to her home there. She'll be back though! David's show will be up through February, so stop by the Sabay Thai restaurant ( address in September 2010 listing below) for lunch, dinner &/or happy hour & take a look at the walls.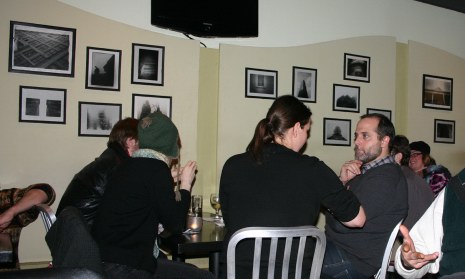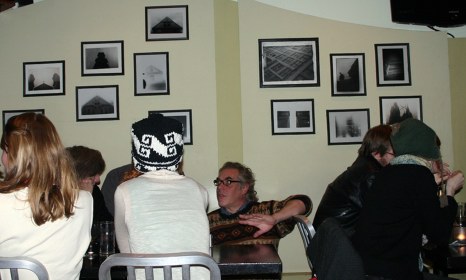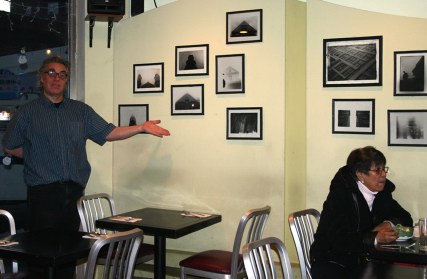 I'm always interested in looking at new work, so email me your jpegs if you feel your art goes with Thai food!
Not sure when I had my Uncle George Ludway's watercolors up but I didnt have time to frame them & frankly couldn't decide which ones to hang & so I hung too many!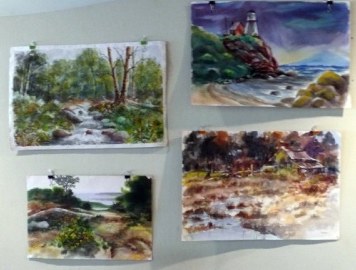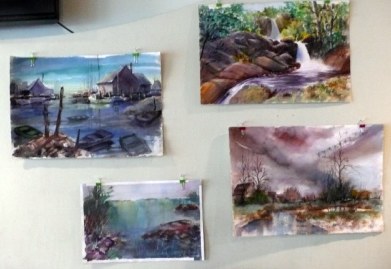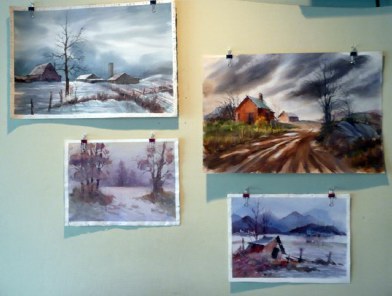 And I think just before Uncle George's watercolors were the beautiful solarprints of Jan McClish, my sister in law
OCTOBER / NOVEMBER 2010
Sabay Thai Curatorial Space
presents
'landscape as patch'
new work by
Annaliese Bischoff
Now on view at Sabay is the art of Annaliese Bischoff, beautiful tiny collages.
Just before, a variety of my collages from the past few years. Included are my small Haiku collages as well as other works.
Just finished was a show of the artful sunmade photographs of Massachusetts photographer Janet McClish.
February/March at Sabay featured 2 artists who work with landscape & watercolor in very different ways- E Margo (Edie Schlesinger) studied painting in China for a number of years and as a result, her artistic expression was transformed.
George Ludway, a cartoonist for most of his life, turned to watercolor at 75. He trained himself in the difficult media of watercolor, gaining the reputation in his native Ohio as the "Shanty Man" because of his numerous paintings of hidden woodsy abodes.
In this show, his traditional Western approach to landscape is contrasted to E Margo's more Eastern interpretation.
MAY 2010
NEW ART@SABAY!!!! Opening this week at SABAY CURaTORIAL SPACE & Restaurant is Lauren Purje, Brooklyn artist from Ohio... opening reception Wednesday June 15 6-8PM:
Sabay Thai Restaurant & Curatorial Space is located at 75-19 Broadway near 75th St in Elmhurst, Queens
You are invited to the new exhibit @ Sabay Curatorial Space for Marc Cavello. Stop by & take a look as you are eating!
His paintings which are printed on canvas will be up for the next 2 months and are available for just $250 each.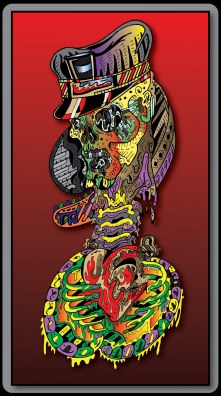 Marc has been working as an artist for the past fifteen years since his graduation from the Rhode Island School of Design in 1996. His accomplishments have included mediums in drawing, painting, music, film, video, writing, theater, cinematography, photography, and sculpture. He has produced and directed five short films and has worked as a cinematographer for over thirty shorts and features. He has also produced, written, recorded, and performed twenty-one music albums. An integral part of his life is dedicated to drawing, music, and daily meditation.